Hospital ECG Solution
Hospital ECG Solution
所属分类:
Digitization of Medical Information
Relying on the ECG network system in hospital, build an ECG information service system for each clinical department in the hospital.
Establish an "ECG Diagnosis Service Center" in the hospital to achieve efficient coordination of medical resources in the hospital, provide the hospital with ECG information services covering all clinical departments in the hospital (including branches) and ECG diagnosis departments, and improve the hospital's medical service capabilities and work efficiency.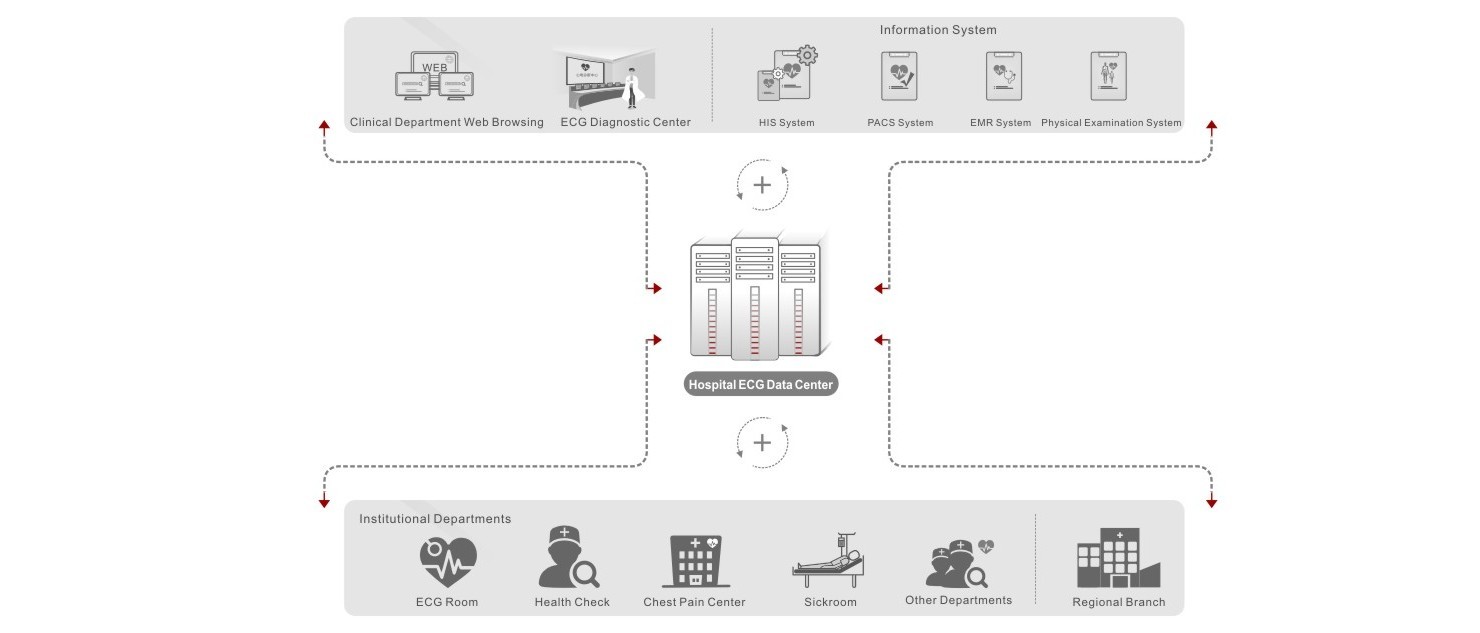 Advantages of Hospital ECG Network
Software and hardware integration, resting ECG, dynamic ECG, ambulatory blood pressure hardware equipment and Zonnet ECG system software are all independently developed by Zoncare, with better compatibility, stronger stability, and short project implementation period;
Easy to Deploy, Easy to Use, and Easy to Maintenance
The system adopts B/S architecture, and the client does not need to install system software. As long as it is connected to the system network, data upload and report download and print can be realized through the browser;
The electrocardiograph directly collects ECG information and supports data bidirectional transmission, thermal paper report printing, without additional PC or PAD, reducing equipment procurement costs and high reliability;
Centralized management, with the hospital's cardiovascular / ECG department as the diagnosis center, and other clinical departments collect and upload medical records to realize centralized diagnosis and report release in the diagnosis center;
Support critical value early warning processing, case arrival voice prompt. Support statistical analysis of multi-dimensional data, support real-time monitoring and display of clinical key point indicator;
Open software platform, modular software structure, standardized data protocol, support third-party ECG equipment access, support docking with existing HIS, LIS, PACS, EMR, physical examination and other systems, and complete data information sharing and opening up the isolated information islands among the hospital systems.
SAF Coolest v1.2 设置面板
VYGSA-AQFJ-SSXAE-DSS
SVG图标库
请自行添加图标,用div包起来,并命名使用