所属分类:
ECG Machine and Patient Monitor
Smooth Operation and Exquisite Display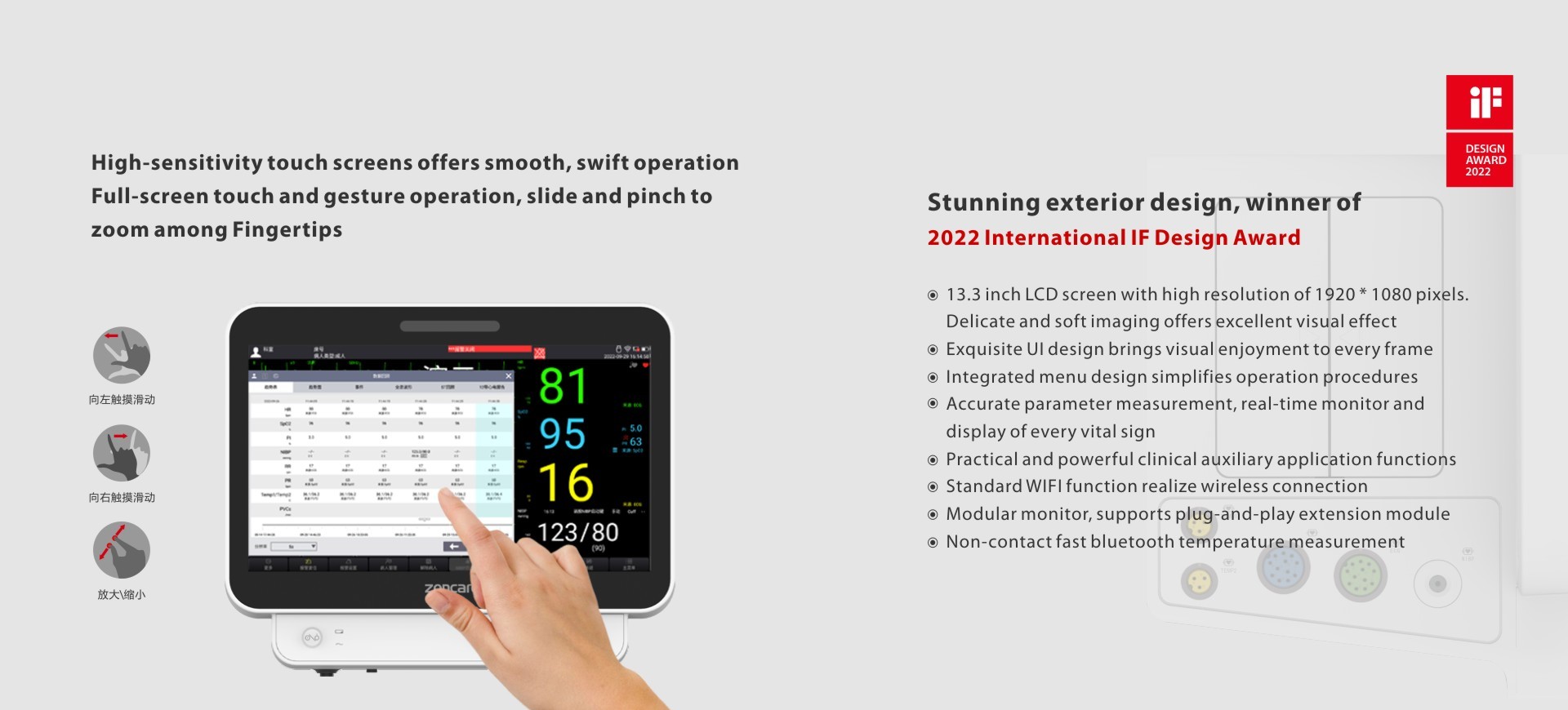 Integrated Menu Design Simplifies Operation Procedures
Customized parameter layout and big numerics display, much closer to clinical application
Various hotkey editing function, convenient for faster operation
Single-interface with three stage menu design ensures that 95% of operations can be completed within 2 steps
Up to 8 intuitive display interfaces, including normal, big numeric, other bed observation, full screen 7-lead...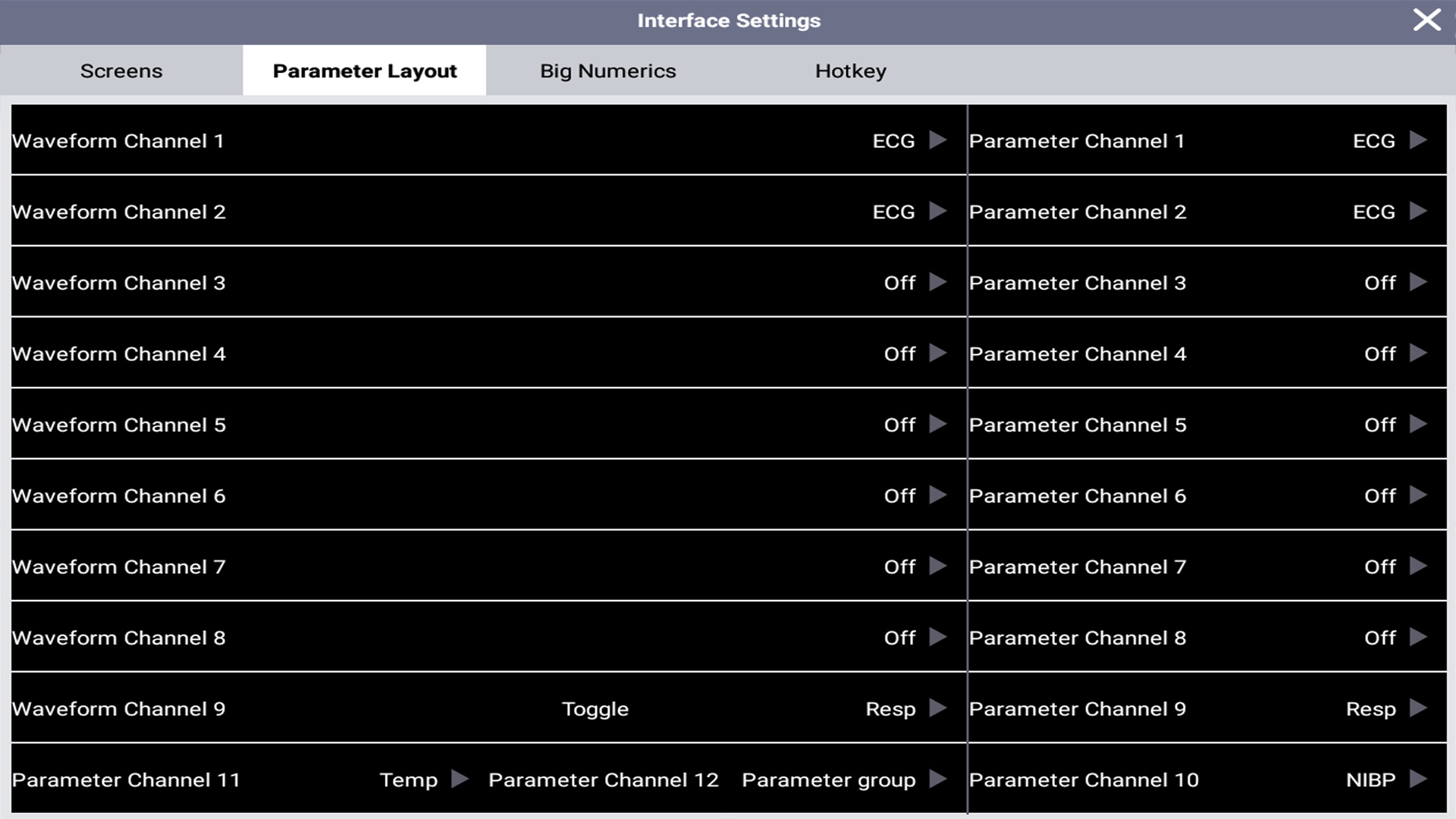 Normal Interface Setting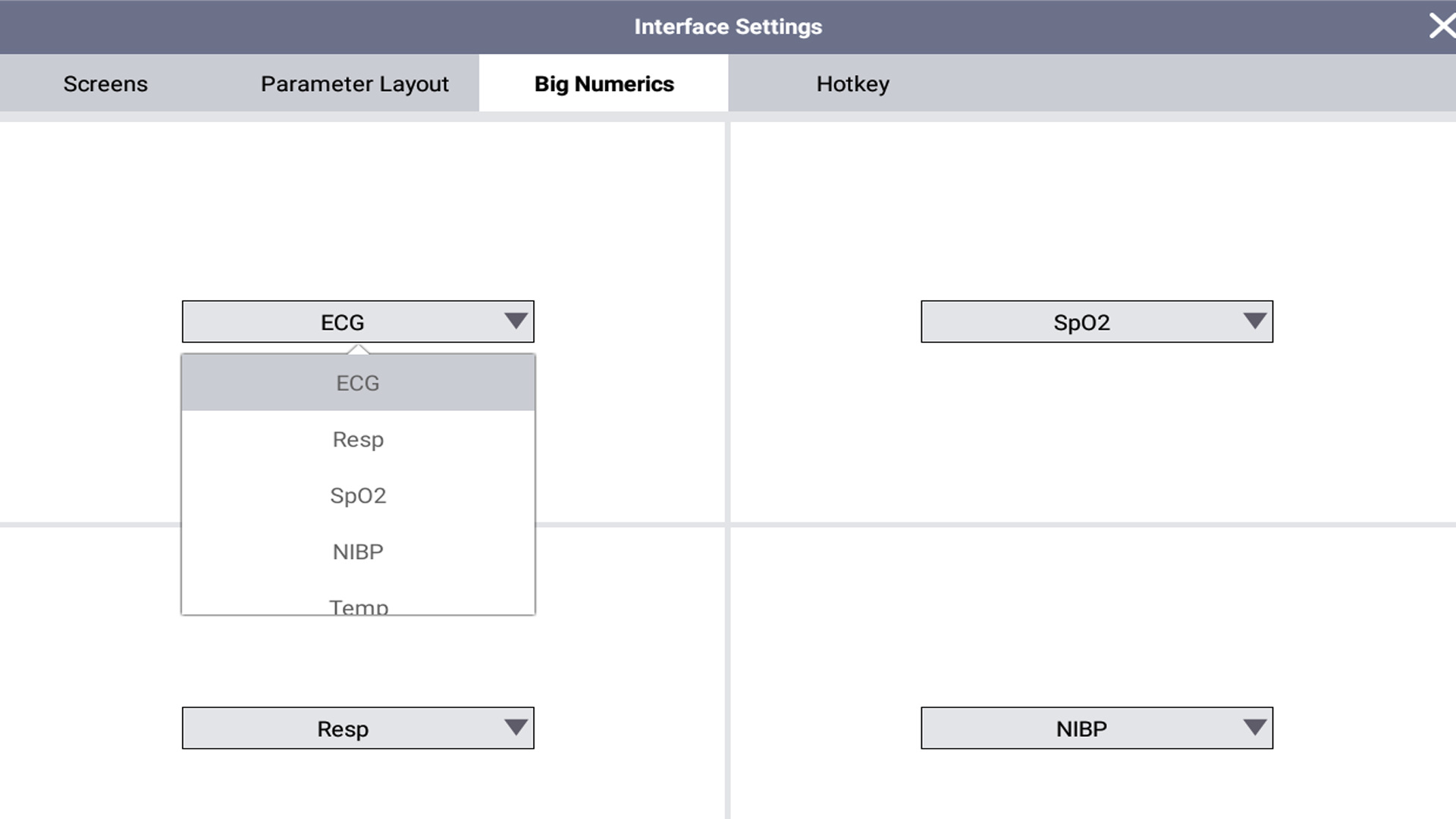 Big Numerics Interface Setting
Hotkey Editing Interface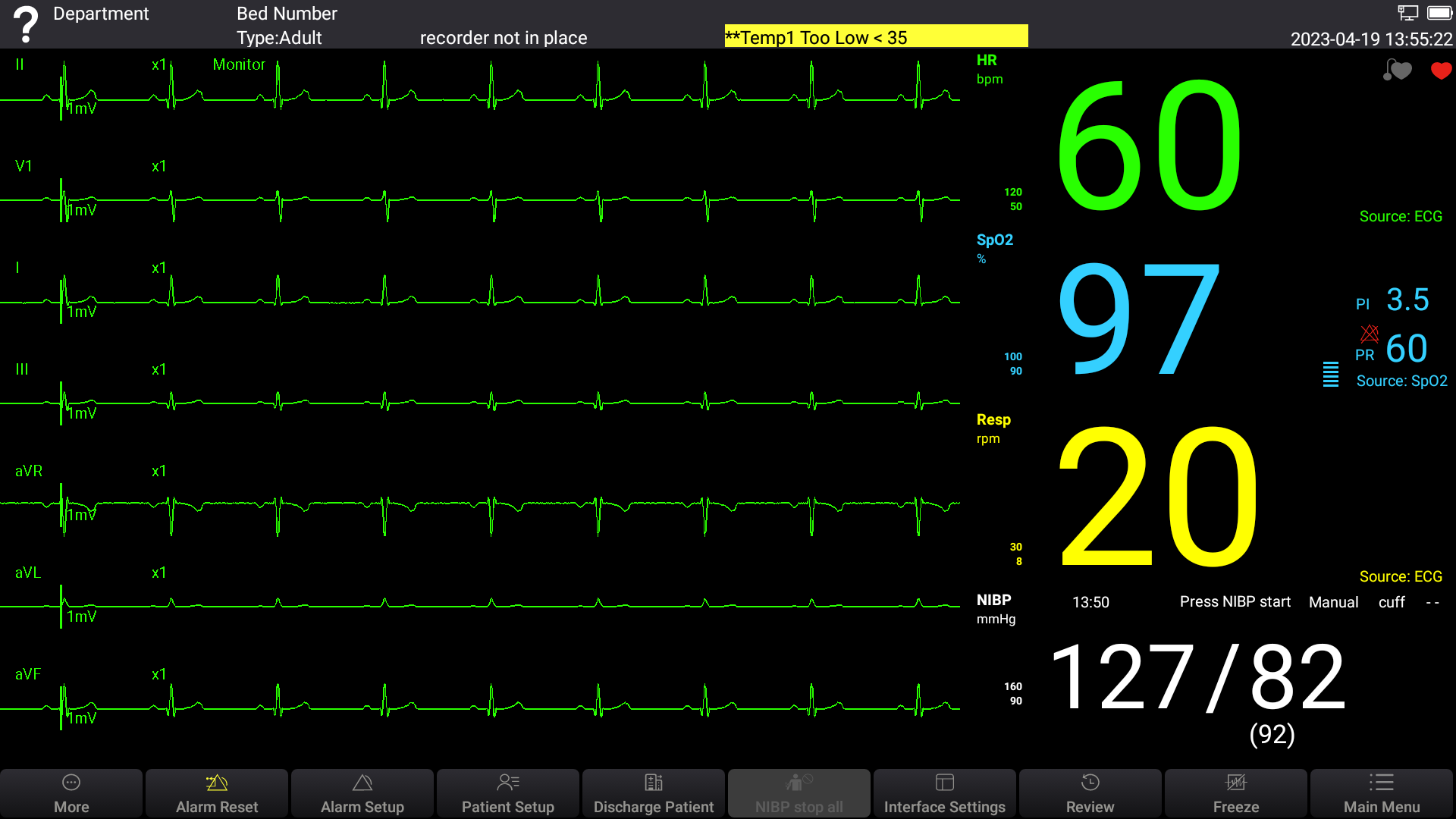 Full Screen 7-Lead
Ergonomic Design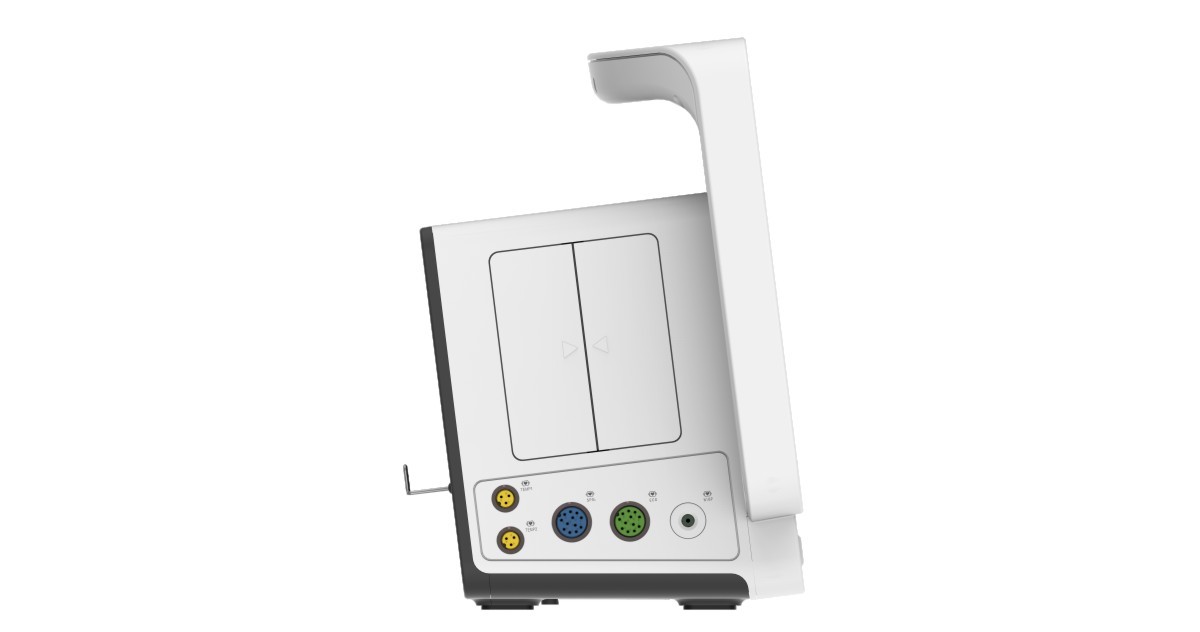 Plug-in lithium battery with high-capacity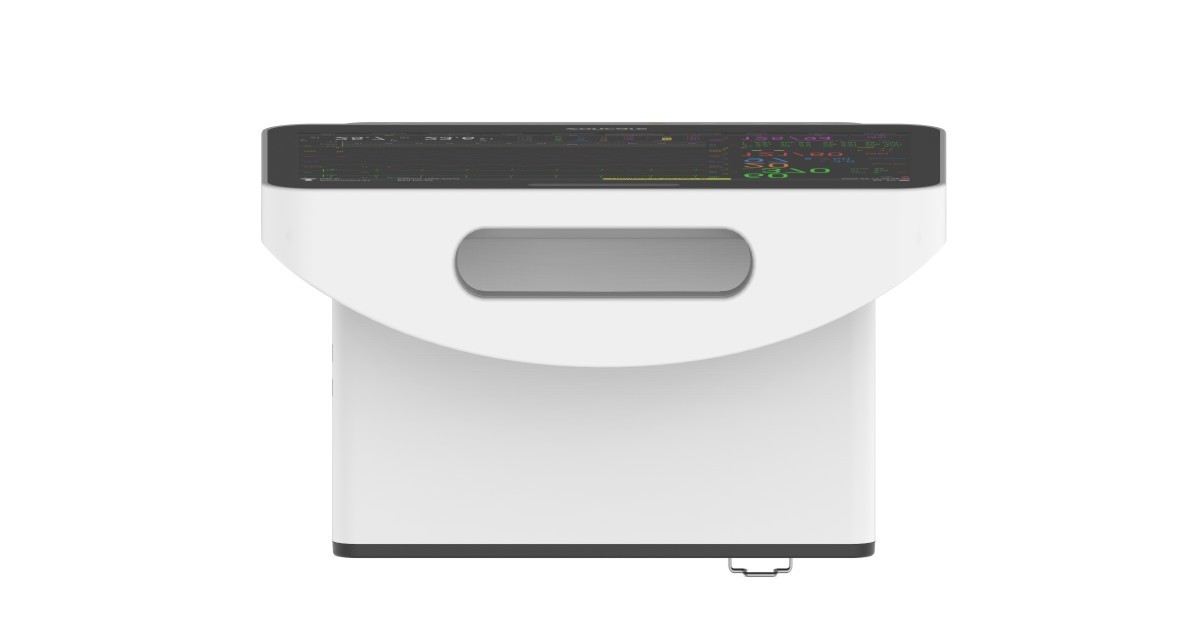 Integrated fixed handle design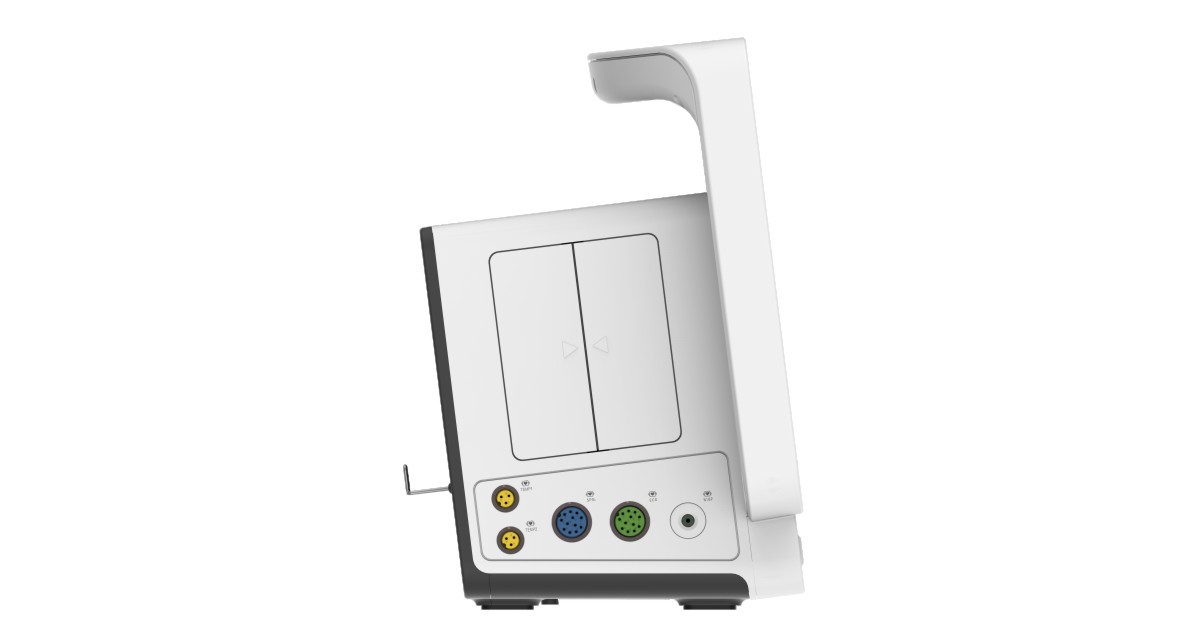 Rebound compartment door
Outstanding Monitoring Technology
With the combination of ZONCARE patented QRS complex detection algorithm ( Patent No.: ZL 201710091357.9) and intelligent heart rate lead algorithm, A20 can ensure more accurate heart rate while occupying less resources and computation under long-term monitoring environment, even lead loss, patient turn-over or limb movements happens.
The deringing filtering algorithm patented by ZONCARE (Patent No.: ZL 201811443998.7) reduces the oscillation distortion and makes the waveform more accurate for patients with pacemaker or children while doing ECG monitoring
The blood pressure algorithm patented by ZONCARE (Patent No.: ZL 201811613353.3) has the advantages of short inflation time, fast measurement and less patient resistance;
Respiratory algorithm can effectively reduce the false respiratory alarms and reduce the fatigue of doctors on doctors alarms; Meanwhile it supports specialized optimization for certain group of people(Strong ECG signal in respiratory signal), and offers more accurate respiratory rate.
Full-lead pace detection function, which can effectively adapt to the situation that the pacemaker signal is getting weaker.
Plentiful Clinical Application
24-hour ECG statistical analysis
24-hour SPO2 statistical analysis
24-hour Dynamic analysis of blood pressure
15 other beds observation, individual monitoring of key bed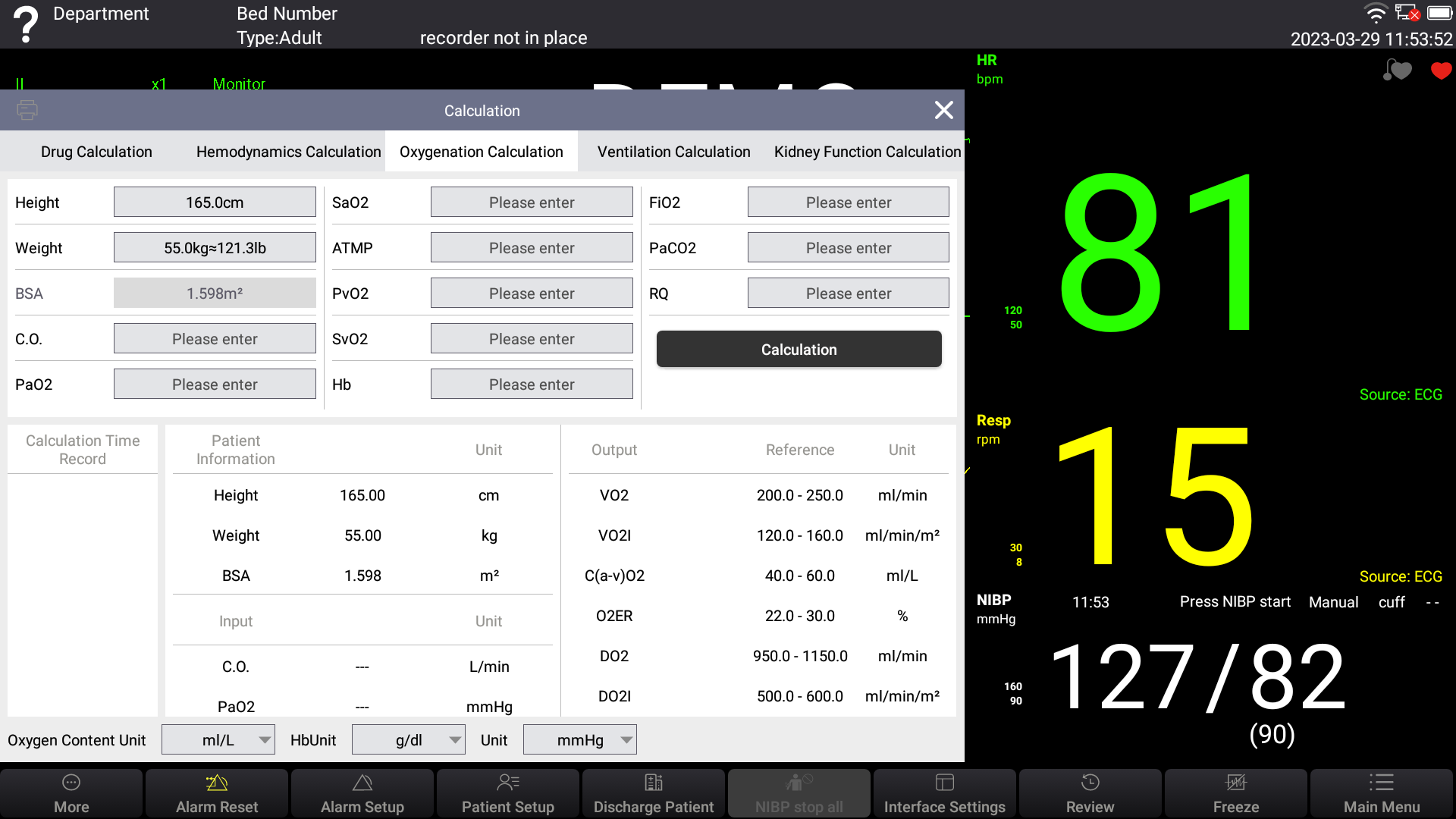 Oxygenation calculation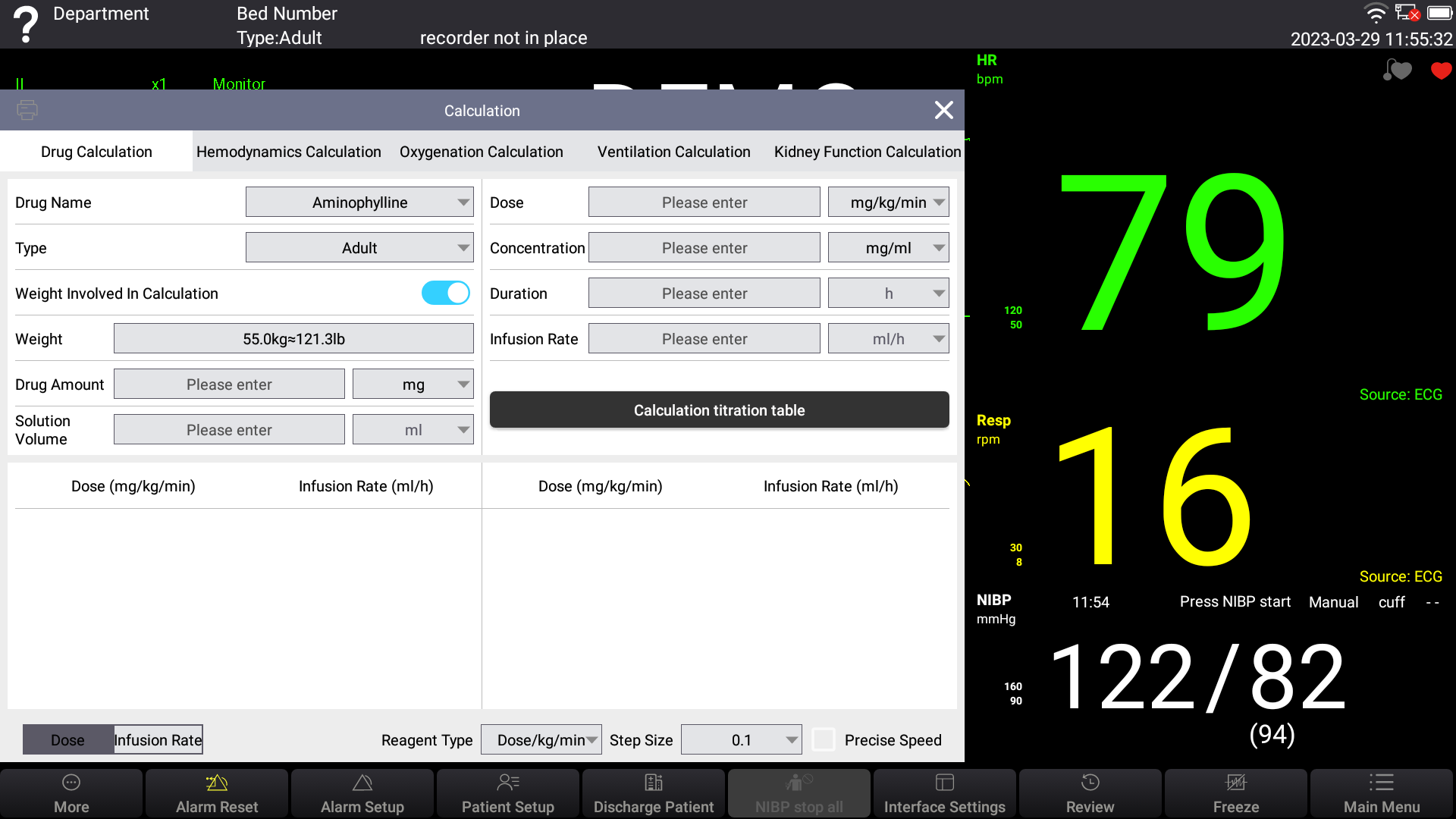 Drug calculation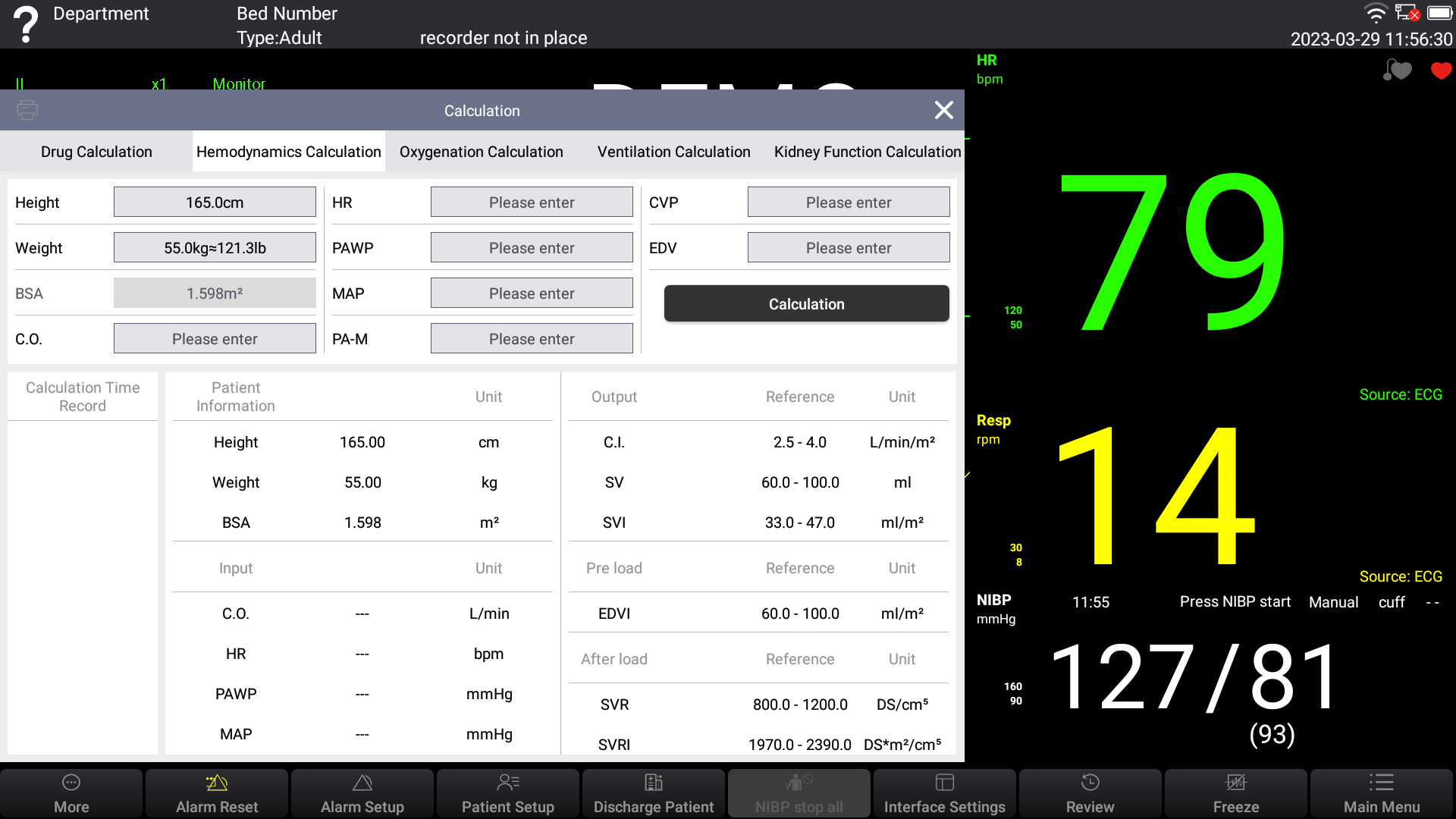 Hemodynamics calculation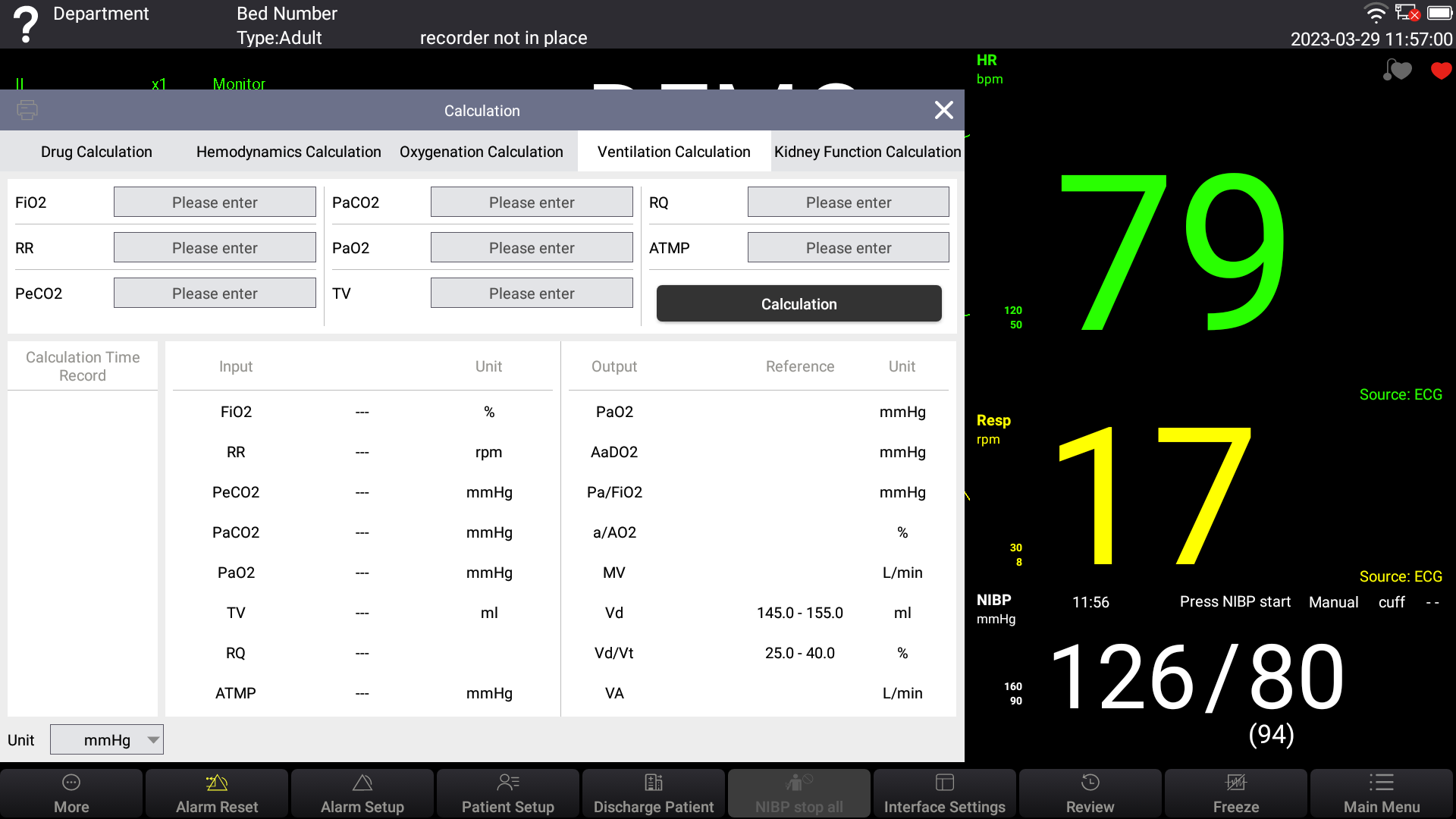 Ventilation calculation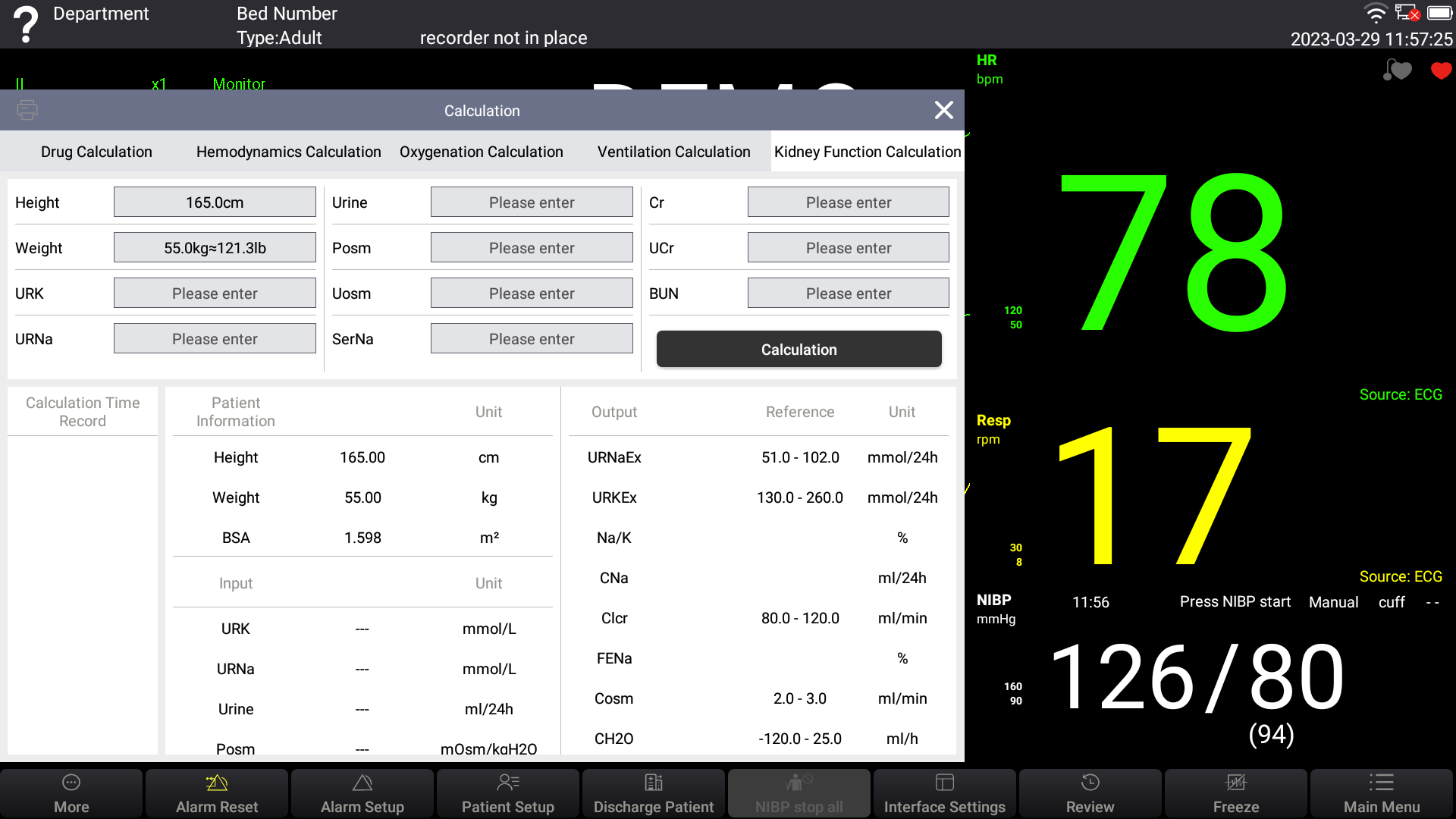 Kidney Function calculation
SAF Coolest v1.2 设置面板
VYGSA-AQFJ-SSXAE-DSS
SVG图标库
请自行添加图标,用div包起来,并命名使用